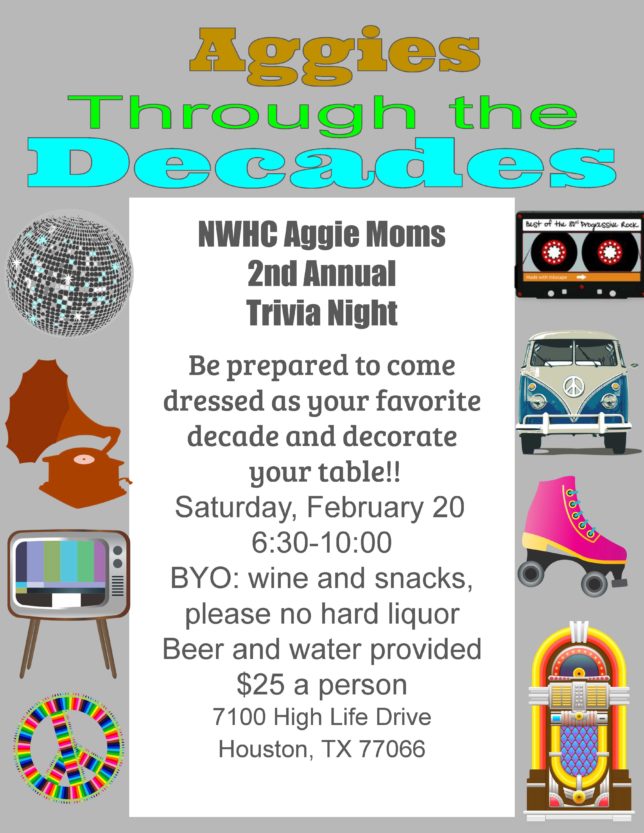 Come dressed as your favorite DECADE and decorate your table for the spirit contest.
When: Saturday, February 20, 2021
Time: 6:30
Where: Houston Distributing co. 7100 High Life Dr., Houston TX 77066
Gather a group of 8 and pay for and reserve your table! If you don't have a group, you will meet some new friends at one of our open tables. $25 a person.
BYO: Wine and Snacks – No hard liquor, please. Beer and water will be provided.

Tickets can be purchased online or at our February general meeting, Tuesday, 2/9.
****************************************************
Be sure to join us on Tuesday, Feb. 9, for our next meeting!
Ryan Swope, '12 will be talking about his Aggie and NFL football days. (Your guys are welcome too!)
We will break into groups at the end for a Trivia Night warm-up with Valentine Kahoots!
****************************************************
Scholarship Application Now Open
Completed applications must be received by 11:59pm February 8, 2021.

Applications can be submitted online by filling out the Online application form and emailing the required letter and transcript to NWHC.ROH @aggienetwork.com. They can also be submitted via US mail with this Scholarship Form. Be sure to read and follow all instructions.

Scholarship applications are open to any Texas A&M University student with a permanent address within our zip code service area (click here to see list) or any Texas A&M student whose mother/guardian is a current member of the Northwest Harris County Texas A&M University Mothers' Club.
****************************************************
Please help us support The 12th Can food pantry at our next meeting by providing non-perishable food for Aggie students who may be having trouble making ends meet during this time.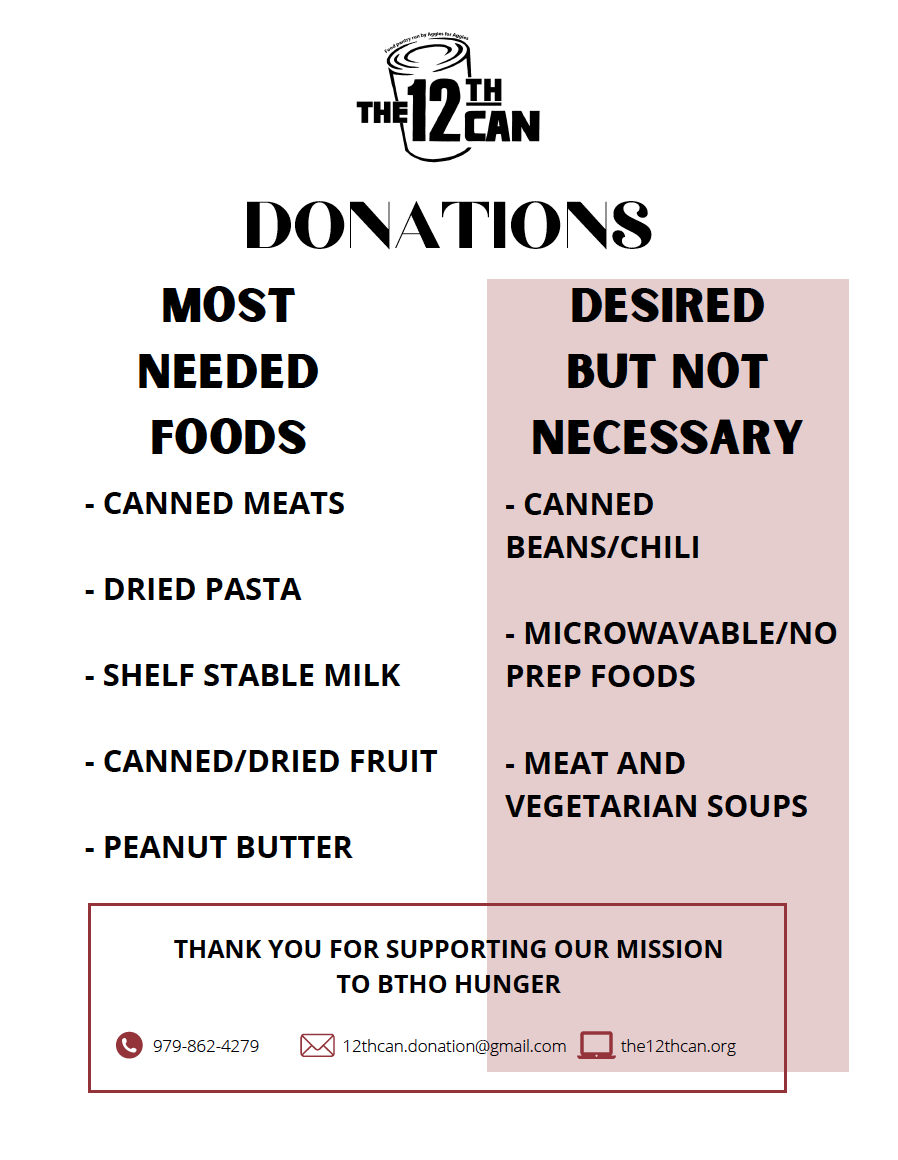 ****************************************************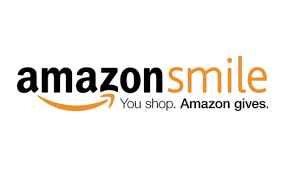 How you can help us raise money for scholarships
with your Amazon shopping!
How do I select a charitable organization to support when shopping on AmazonSmile?
On your first visit to AmazonSmile smile.amazon.com, you need to select a charitable organization to receive donations from eligible purchases before you begin shopping. We will remember your selection, and then every eligible purchase you make at smile.amazon.com will result in a donation. AmazonSmile will occasionally contact you about donation amounts disbursed to your chosen charity or about the program.
Can I change my charity?
Yes, you can change your charity any time. Your AmazonSmile purchases after the change count towards your newly selected charity. To change your charity, sign in to smile.amazon.com on your desktop or mobile phone browser and simply select "Change your Charity" in "Your Account."

Our charity name is: Federation of Texas A&M University Mothers Club, but you must enter our Tax ID# in the search box for donations to come to our club instead of a different one.
Type only the number including the hyphen in the box.
Tax ID# 76-0239946
Thank you!
****************************************************
MEMBERSHIP 2020-2021 INFORMATION
We are accepting new and renewal membership registrations for the 2020-2021 school year. Registration can be done online through the website using the Online Membership Form or by downloading and mailing in the paper form to the address shown on the form. Annual dues are $35.

If your Aggie has graduated, you can still be a part of this great group as a Ring of Honor Mom. We invite you to rejoin for the fun and fellowship and to continue to raise funds for scholarships and student organizations! Ring of Honor Mom dues are $30.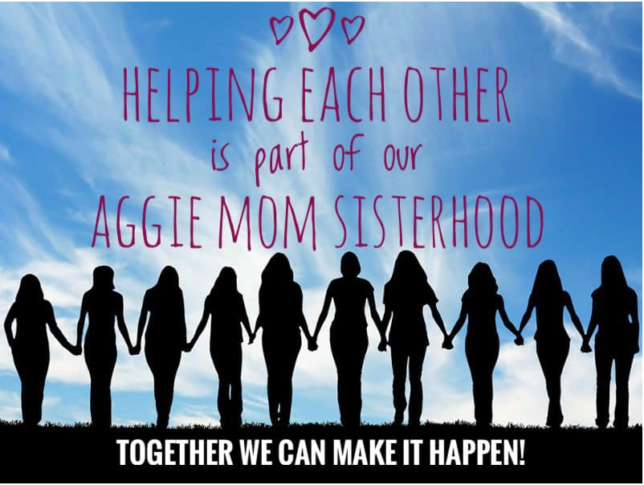 ****************************************************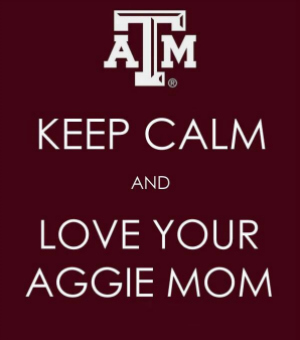 ****************************************************