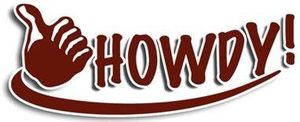 ******************************************************
Hullabaloo Huddle Watch Party
Mark your calendars for October 19th, Ags!

This will be the social event of the year, not located in College Station! Come join us as we watch our beloved Aggies trounce Ole Miss. Our watch party is at STATS Bar and Grill. Located at: 10850 Louetta Rd #1700, Houston, TX 77070. Game time is 6:30pm!

There will be drink specials during the game and a silent auction to raise funds for our students and student organizations.
******************************************************
Membership! Welcome Aggie Moms!
Join our club now or renew your membership.
The cost is $35 online or in person at our general meeting!

You can also donate at one of our donation levels to receive this wonderful decal as a token of thanks.
Registering or Renewing your membership is easy!! You can do it on line by filling out the online form and completing your payment with a credit card.

Or you can download the paper form and mail it into us with a check or bring it to our general monthly meeting.
******************************************************
Aggie Mom Camp!
Join Us For Aggie Mom Camp 2020! (Click this link for forms)
Our Aggies have Fish Camp, S.A.L.T. Camp or T-Camp to aid in their transition from home to college life and to introduce them to the traditions of Texas A&M University. Aggie Moms also have CAMP!

Every year since 1994, the Federation of TAMU Mothers' Clubs has held Aggie Mom Camp in Aggieland. The goal of the event is similar to that of the camps for our Aggies. The Federation hopes to have experienced Aggie Moms help new Aggie Moms with the transition as their child leaves home to attend Texas A&M University and to introduce them to the wonderful traditions of A&M. Aggie Mom Camp is also a great weekend for the experienced Aggie Mom.

In addition, we have loads of fun!! There are tours, speakers, skits, shopping, and lots of bonding with both "old" and "new" Aggie Moms.

Join us for Aggie Mom Camp to meet other Aggie Moms and have a wonderful weekend in Aggieland enjoying our Aggie Mom Sisterhood!
Who: All Aggie Moms!

What: Aggie Mom Camp 2019-2020

When: February 7-9, 2020

Where: College Station-Texas A&M Hotel & Conference Center

This Year's Theme: "Service and Sisterhood"