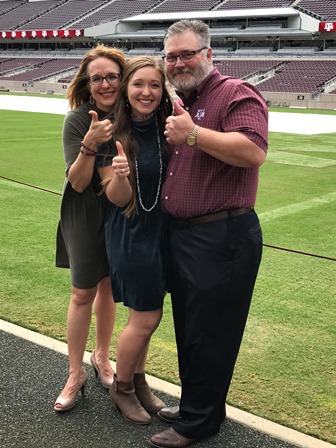 Howdy!
Welcome the Northwest Harris County Aggie Mother's Club! My name is Kiersten O'Malley and I am blessed to serve as the Club President for the 2018-2019 school year.
My connection to Aggieland began when I married my husband Tim '85 and surrounded myself with his amazing Aggie family. Our daughter Hannah is class of '19 so I now firmly (and happily) bleed maroon.
This year we are celebrating our 30th Anniversary as a club! Through those thirty years we have shared laughter, tears, advice, and applauded lots of graduates. We look forward to doing that with you too!!
Our club is led by an amazing group of ladies on our Board and Committees. They have been working through the summer preparing for you – meetings, social events, fundraising, service opportunities, etc. There are so many ways to be a part of this club and support our Aggies.
Please check our website www.nwhcaggiemoms.org and our join our Facebook page "Northwest Harris County Aggie Mom's Club" to find the latest information. We are proud members of the Federation of Texas A&M University Mothers' Clubs – another great resource for you.
Our General meetings are held on the 2nd Tuesday of each month from August through May. These meetings are a fantastic opportunity to form friendships, learn about Texas A&M, ask questions and support those Aggies!
I look forward to meeting you and sharing this year with you.
Gig 'em and God Bless!
Kiersten O'Malley
President 2018-2019