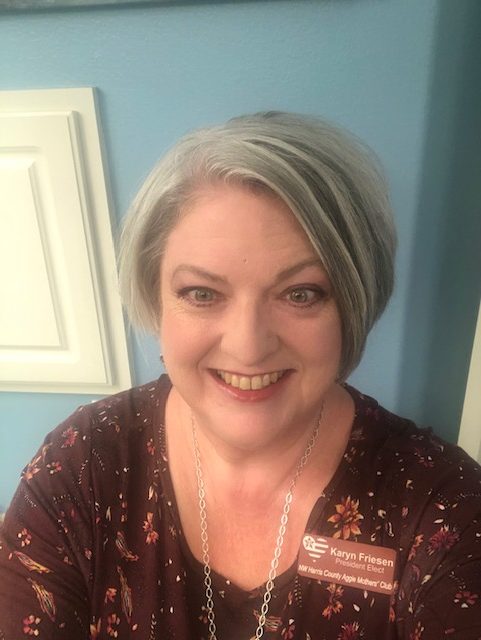 Howdy!
It's the first word you'd hear on campus.
It's the first word spoken by the Yell Leaders at Yell Practice.
It's more than a greeting.
It's an invitation.
It's an expression of values, of the connection you can't experience anywhere else!

by Clark Friesen
Welcome to the Northwest Harris County Aggie Mothers' Club! My name is Karyn Friesen, and I am blessed to serve as the Club President for the 2020-2021 school year.

I am an Aggie, Class of 1992 – Whoop! I attended Texas A&M for graduate school, and not only received an excellent education, but more importantly I met my husband Clark, Class of 1993. We met on the first day of his graduate program, and it has been true love ever since. We have two daughters who are also attending A&M. Kathryn is a senior in the Visualization Department studying computer game design. Kylie is a junior transfer student, also in the Visualization Department and studying animation. Our household bleeds maroon! This is not a requirement to join our club, however!
Our club is led by an amazing group of ladies on our Board and Committees. They have created a great calendar of events and speakers for the coming year. We look forward to having you join us at our meetings and events. There are many great ways to participate in this club. Also, the club meetings and events are a fantastic opportunity to form friendships, learn about Texas A&M, ask questions and support those Aggies!
I look forward to meeting you and sharing this year with you.

Gig 'em and God Bless,

Karyn Friesen
Class of 1992
President 2020-2021